Many of you have already met my incredible assistant Maryann, but I thought it was time for a formal introduction.
Maryann came to me via Michaels Arts & Crafts parking lot.  Yep, it's true.  Maryann had over heard my husband and myself laughing and having a good time in the local parking lot, a little over two years ago.   When she heard us having a good time she looked over and saw our company vehicle and copied down the phone number thinking she would like to work for a company that can laugh and enjoy life.
Maryann then emailed and called me shortly after that and the rest is history.  The two of us are perfectionists and both have a huge desire to please our clients so the fact that Maryann is now a part of our team has been a win-win.
Often you will find Maryann dropping off samples at clients homes, meeting some of our crew out on a job, delivering fabric, etc.
Maryann also works as a Personal Assistant for other professional women so if you need someone who is trust worthy and a hard worker, just give me a call and I'll get you her contact information.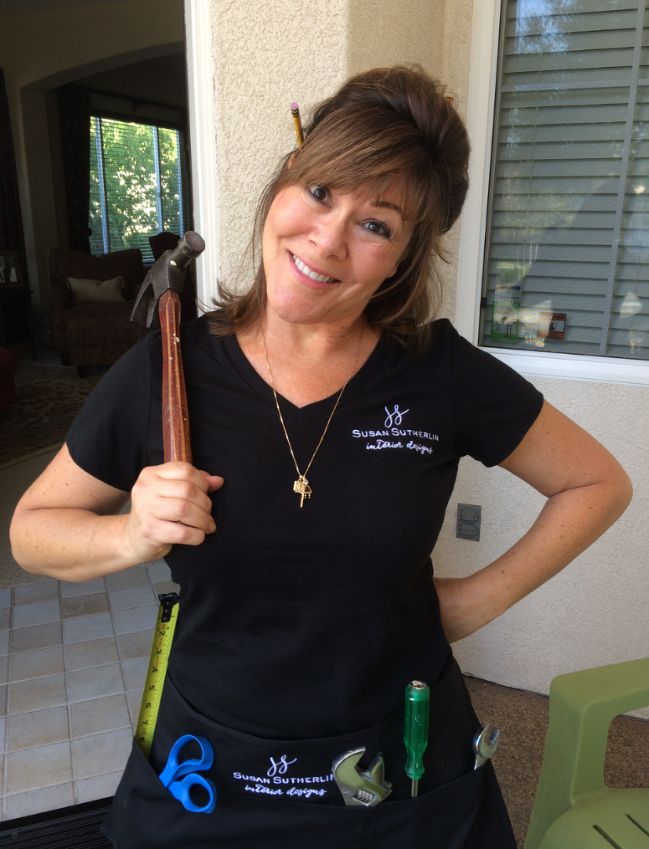 There she is . . . . the world's best assistant.
Recently we had our new company t-shirts and working aprons arrive, Maryann was such a trooper to put on her new shirt and apron and pose for a picture!  She even included some props. Maryann really is the best and has been a huge blessing to our team.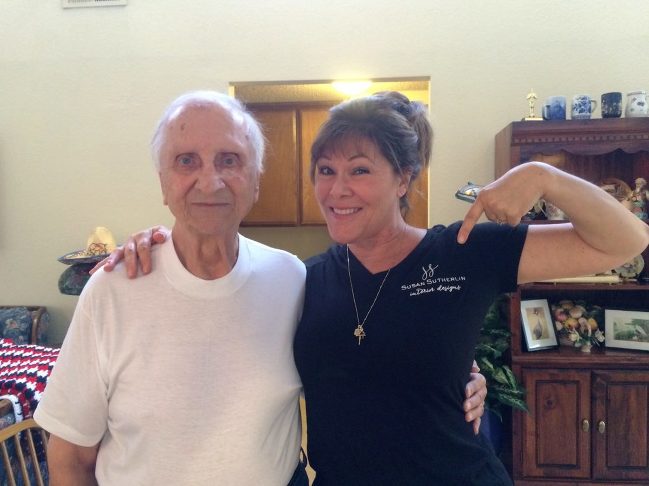 Then there is this man, I'll call him Ron.  He has been so much fun to work with and even insisted on posing for a picture with our Mrs. Maryann.  You see, this was the first day we wore our new shirts and Ron was insistent that we share them with the world.
How did we meet Ron?  – Recently Ron's daughter contacted us as Ron was moving to San Diego and needed help hanging and placing hundreds of pieces of artwork that he had gathered from his various trips around the world.   Once I met with Ron I knew we would be great together.  We quickly got started with hanging his art and doing a mini-remodel on his "new" kitchen.
Upon my first meeting with Ron I knew we were in for a good time!  You see Ron has the best sense of humor and he also adored his late wife, two attributes that I highly admire.  Ron is one of those guys that brings out the best in everyone.
We refaced nearly all of Ron's kitchen cabinets so that he could display all of the china that he and his wife had purchased together.  Maryann and I spent several hours prepping the new cabinets for the new displays.

Maryann just loves when I get out the camera . . . maybe not, but I certainly appreciate her dedication and attention to our customer's needs.
Sharing is Caring