The owner's request, 'create a bright, gray and white kitchen'.  "Mission Accomplished" with this Rancho Santa Fe remodel.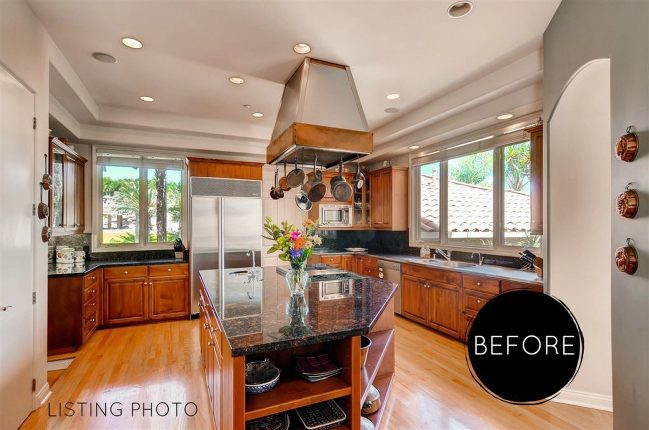 Overall, the footprint of the kitchen stayed the same.  There was no need to move plumbing lines which was a big bonus to the budget.
Although hard to see in this photo, to the far left you will see a door handle.  This was a large double door panty and just beyond that there are a couple of steps leading to the formal dining room.  That wall was closed up which allowed for more kitchen storage and counter space.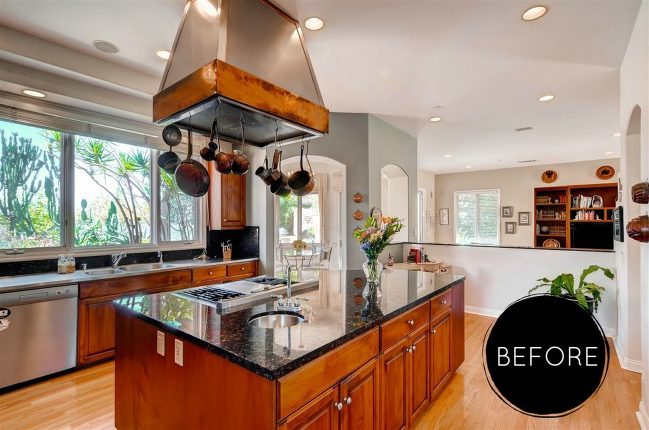 The high-end stove, oven, and oven hood were items that we kept.  We did make a small change to the hood, can you see what it is?
The arched wall surrounding the kitchen nook, and the small wall just past the island were removed to make the space more open and user friendly.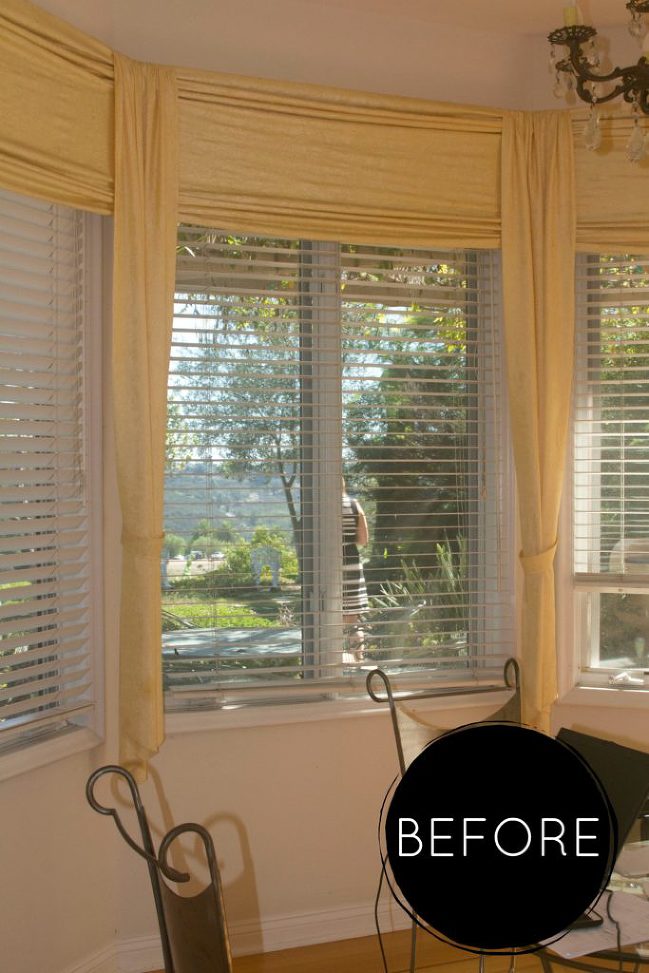 There there is the kitchen nook which is beautifully sunny and bright.  Here we simply updated the window treatments, chandelier and brought in a cottage styled table and upholstered chairs from Universal Furniture.

So happy with this Sherwin Williams paint color.  Gray's are so hard to find without looking 'blue' or depressing.  Perfection,  and it was used throughout the house.


A honed quartz was used on the island and a complimentary polished quartz was used on the surrounding counter-tops.
In the above picture you will see the area that was closed up giving the owners more work space and storage.

Ta-Dah!  A finished bright gray and white kitchen with a splash of sunny bright yellow accessories, flowers and fruit. A very fun and rewarding Rancho Santa Fe remodel.
Again we layered the lighting which included recessed ceiling light, interior cabinet lights inn the upper cabinets and under cabinet lighting which in my opinion is a MUST for any kitchen.
Although difficult to see in this photo, the backsplash is a light gray chevron pattern which compliments the quart counter tops perfectly.

Cordless roman shades allow all of the beautiful sun shine to flow through the windows each morning.   Take a look at how all of the patterns match up from one shade to another.  Thanks goes out to our wonderful work room for paying attention to this important detail (thanks Cathy).  Soon there will be a cliff top pool making the view even more rewarding.
The new lighting fixture was a must after our team found this treasure.  It's rewarding to see it hanging there in all it's glory.

We are very pleased with this new kitchen in this Rancho Santa Fe remodel, the heart of the home.  What is your favorite part?
Make sure to follow along with the BLOG to see the other rooms in this remodel.
Sharing is Caring