Sometimes we meet clients in the most unusual places and these very special clients were no exception.
Last year, on October 17, I had a snow accident causing me to break my leg.  Lets just say it was a 'skiing accident' because that sounds so much better than what happened.  Any how, I needed some special help getting around and my husband was my guy, especially when getting in and out of the car.  One afternoon while 'trying' to get in the car we started laughing hysterical with our/my clumsiness.  We didn't know that a future client was watching us in the next car and getting a kick out of our joking around with each other.
Come the beginning of the year I received a phone call from our new parking lot friend.  She explained that she wanted to do business with someone who laughed at 'life' like we had.  Yep, that's us! Of coarse, she also looked at our work on the web site.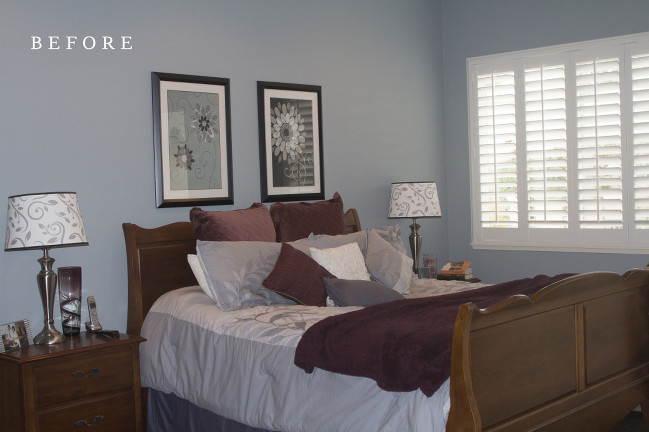 What pulled at my heart strings during this re-design was to find out that the bedroom furniture was not to be touched, let alone replaced.  When asked why, it was because it was a set purchased when this Scripps Ranch couple got married and it was going to stay with them forever.  I love, and honor, that decision and commitment.
But, just about everything else was changed; a chocolate brown area rug was removed, the blue paint replaced with a golden-tan, a focal wall was made by adding a sparkly wallpaper, the ceiling fan was replaced with a stunning transitional chandelier, new table lamps, new art, and all new bedding.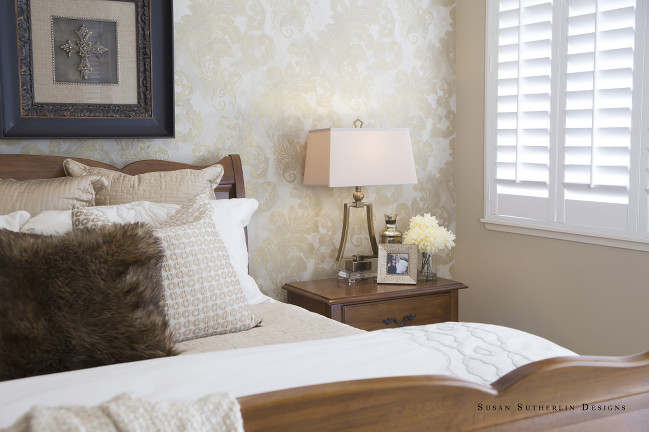 Here you can see a little more of the detail in the glittery wallpaper.  It's a fantastic addition which is even more scrumptious when the evening sets in and the lights are dimmed.

In this shot you should probably take note of that television off to the right . . . it's gone now.  Also, we added sconces above the dresser that match the stunning new chandelier.  The finishing touches were the new mirror and dresser accessories.

Just like in many of my other re-designs, we made sure to have all of the wired fixtures on dimmers.  There is just something so soothing to have a room dimly lit at night.  Lighting, is so important for every room in the house.  No matter your budget, make this a priority.

This home office and sitting room are right off of the master bedroom and also needed a face-lift.  In the home owners own words, "it's just need to feel more cozy".  The room echo when I first arrived was like the room crying out to me, "fix me please".  My first suggestion was to add some window treatments, and that almost instantly took away that frosty feel in the room.

Just like the bedroom, this room gained a nice new color of paint that added to the cozy feeling the home owner was craving.  We also added a new, much fuller, plant in the corner which included a new up-light.  (Did you know you can get these simple, and drama making lights, at Home Depot for under $20.00.)
A new, more modern occasional table was added to the right of the chair in the corner and the owner added her own art work over the sofa.  Several down-filled pillows were also brought in to make cuddling up on the sofa a great place for an afternoon nap.

  Ta-Da it all came together and these Scripps Ranch home owners are thrilled with their new rooms, and one of the best parts of working with them is that I gained a friend for life.  Truly, they are a very special family.
PS – I'm loving the new floor and desk lamp in this room.  What do you think?  I would love to hear your comments.
Sharing is Caring