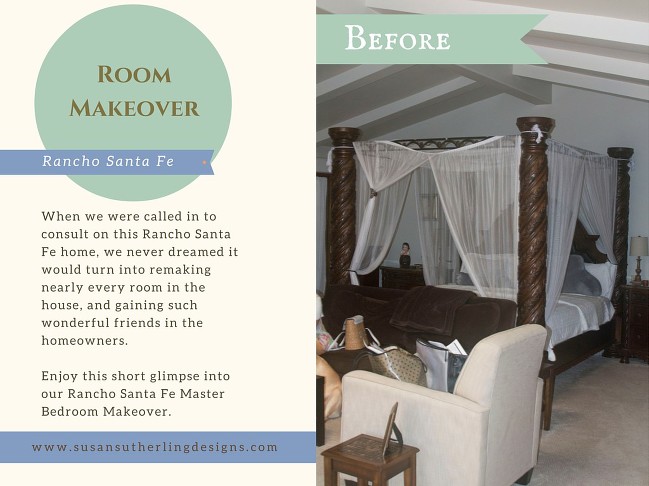 Where do I begin, this bedroom received a breath of fresh air.  When we first consulted for this Rancho Santa Fe – Master Bedroom Makeover, the homeowner asked that all of the heavy furniture be removed and that hints of "nature" be introduced.  Mission Accomplished.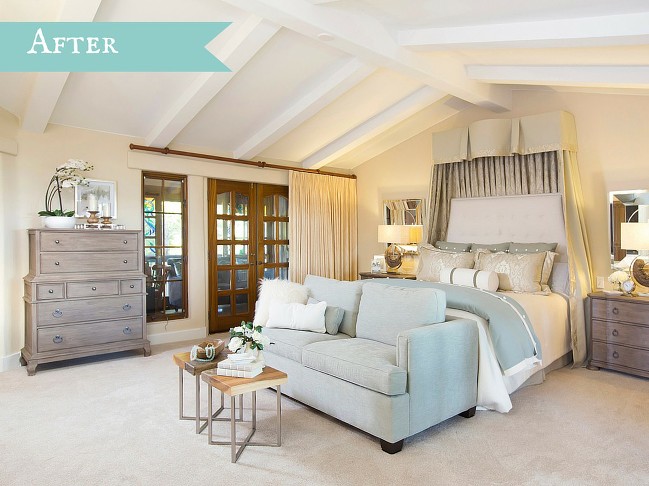 We replaced the carpet, painted the walls, removed all existing drapery and installed custom window treatments.  Then all new furniture and custom bedding were put in to production.  Very few things in this room were left untouched.
All that darkness is gone!  Let the sun shine in.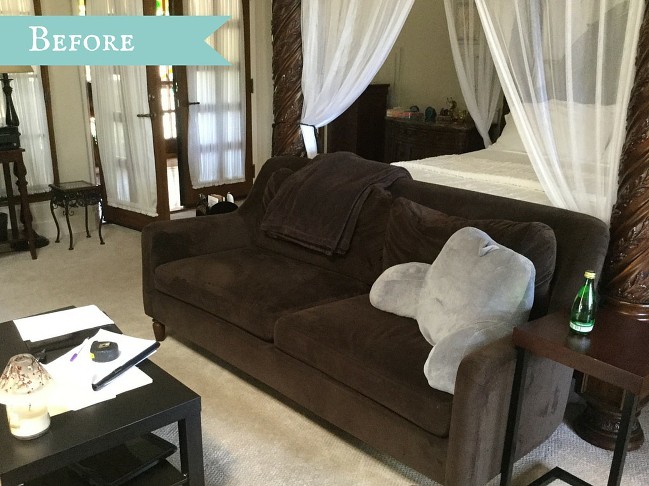 All of the dark furniture was removed and accessories were removed.  Let the sun shine in!

Look at all of that detail on the duvet cover.  All of those white knots were hand made in our incredible workroom.  Then make sure to take a look at the far corner where the chaise is now located, there was once a fireplace there.  For various reasons we were not able to remove the fireplace which the homeowner really disliked, so up went the new wall.  You would never know it's behind that wall.

Behind these two small tables is a new sleeper sofa that accommodates some young children when they want to camp out in this freshened up room.  It was important that these two tables be easily moved when that sofa was put into use.

More of the custom pillows and bedding.  This is one cushy bed!

The chests on either side of the bed are known as Bachelors Chests.  I try to always use them when we have a large room, they help anchor the room, and feel so much more appropriate than an standard night stand.

I had a lot of fun designing the Corona, the item hanging over the bed.  I really need to thank my work room for their patience, because when I came in with my drawings I'm sure they just wanted to say, 'really Susan'.  You see, this was all happening at the busiest time of the year for our industry, the Fall.

Yep, these make me happy.  Lots of custom pillows make for sweet dreams, a comfortable place to read, or just to cuddle up and watch your favorite television show.

Remember that fireplace I told you about earlier, here it is in all of it's glory at my first visit with the homeowner.

. . . . and here it is now.  No more fireplace!  Oh, and that stunning chaise, it's a recliner.  The entire back end of the chair goes down on a power switch and basically makes into a twin bed.
We still have a few additions to this Rancho Santa Fe room, such as a new chair which will sit next to the sofa, and a custom wall waterfall which will finish giving this homeowner that feeling of nature she craves.
Let me know your thoughts about this new room.
Sharing is Caring