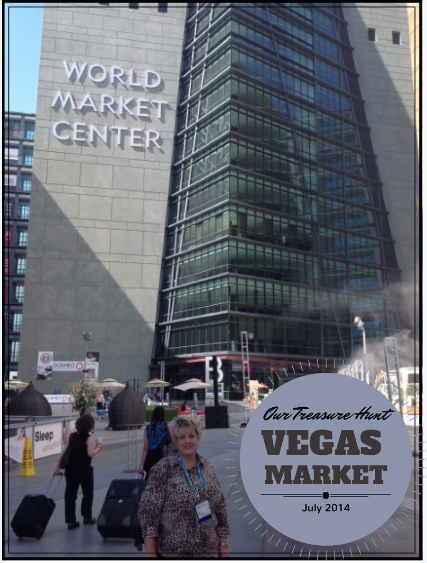 The Vegas Market takes place twice a year and is "thee" place to go for any designer on the West Coast, outside of the furniture capital of the US in High Point, North Carolina.   I attend at least once a year, and when possible twice a year.  I feel it's very important to stay on top of trends and meet with suppliers face-to-face.
Manufacturers come out with new products twice a year and we are always surprised with the new items.  This year we saw the color GOLD every where!  Pull out all of those gold accessories from a couple of years ago, you'll start seeing them making a big splash in the stores soon.  Another thing that was repeated throughout market were horses . . . yep, our four legged friend the horse.  After asking around as to "why", the only thing we could come up was that this is the Year of the Horse in the Asian community.
Above you will see one of the three buildings that we walk through for usually three days.  One building a day is about all we can take, it's brain overload!   You usually start the trip in a your fancy business shoes and come the last day you are in your fancy flip flops, at least I am.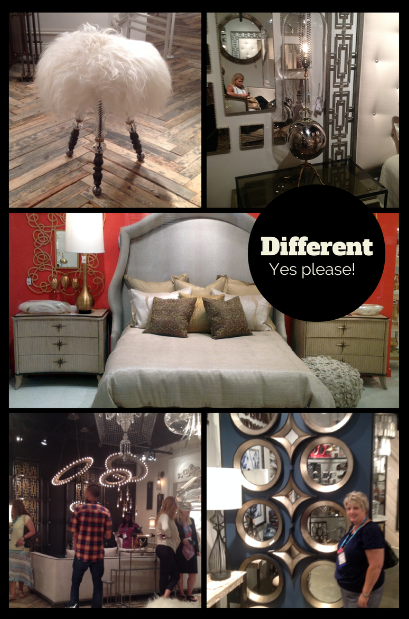 We are always looking for things that are a "little" different.  I use the term "little" loosely because different can mean so many things to different designers.  I always see things I know we will probably never use, but use them as inspiration for possibly taking bits and pieces to create our own treasure.
That little "furry" stool above was so cute and would be perfect in a dressing area or a teens room.   The lighting fixture sitting on the bedside table   . . . I'm in love with it!  Who wants to be the first to put it in their home?   The beautiful headboard, I could see that with some initials monogrammed in the back.  Those circular lighting fixtures, I've got to find a place for those.  The round mirrors, with the inset diamond mirrors, would be perfect for filling a large wall . . . and they were inexpensive.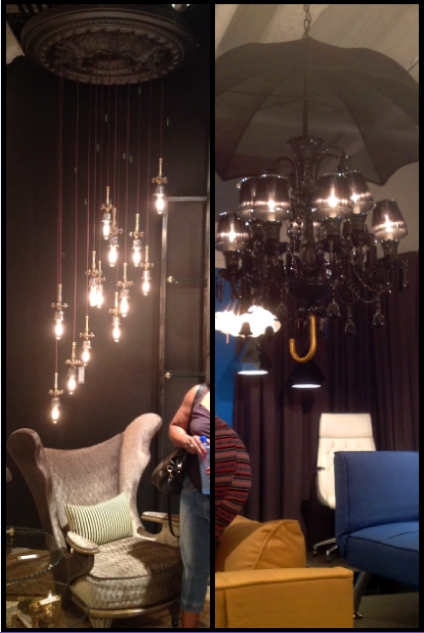 Two very different lighting fixtures (above), one full of humor with a black umbrella hanging over the fixture.  The other were various pendants hanging at different levels, perfect for a spiffy industrial look.

When we go to market we are always looking with our clients in mind.  We are presently working on a house in the Rancho Santa Fe area of San Diego and I am calling the home design, "Rustic Asian".  This antique apothecary cabinet (above) would be perfect in their home.  Full of texture and clearly aged chinese characters.
The iron branches on the wall (above right) are actually two separate pieces and we are thinking about using them in a home we are working on in San Marcos.  We would be hanging them on a feature wall heading into the master suite and would have a direct spotlight making them "pop".

The table above has actually been ordered for a client and it was nice to see it in person . . . it's going to be beautiful in their home.
Then there is this scarry table lamp . . . a machine gun, really?  Not sure where I would use that.
I'm going to  go out on a limb and call this giant pink chair . . . OUT THERE!  I guess if you were wanting to make a statement, and you had very high ceilings, you could use this piece of bright furniture.
The wall scones on the far right were really beautiful and unusual.  Again, they would be perfect in a spiffy industrial interior, but they with the need for a large budget.
I'll feature some more of Vegas tomorrow, but let me know if you have any questions.
Sharing is Caring