Now onto the dramatic Rancho Santa Fe Master Bedroom & Bathroom.  In these two areas some major changes were made.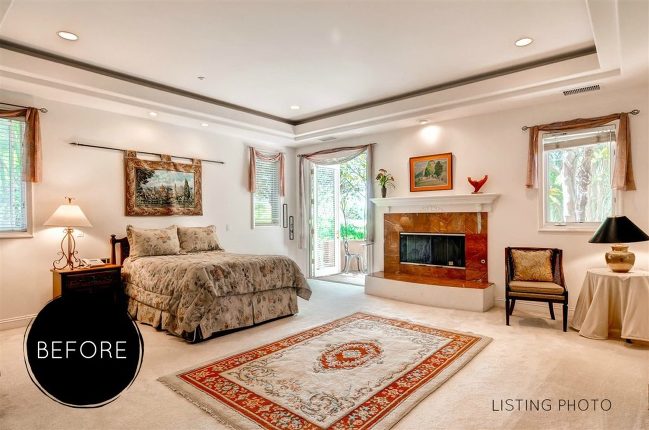 When you compare the above 'before' photo to the 'after' photo, you will notice major changes.  We repainted the entire room, installed new wall-to-wall carpet, refaced the fireplace, installed new Plantation shutters and drapery.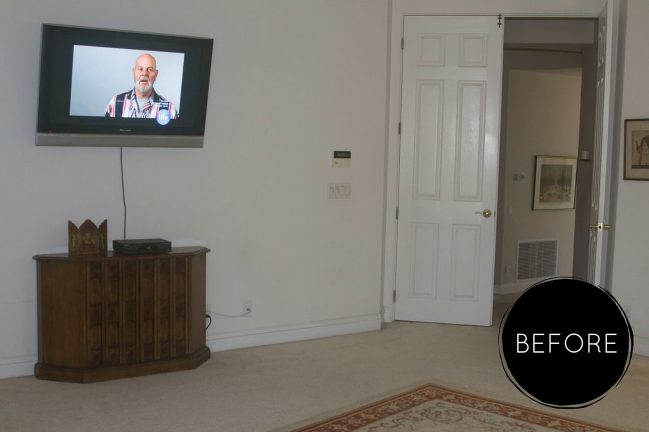 In the above picture is the double door entry coming into the bedroom from the hallway.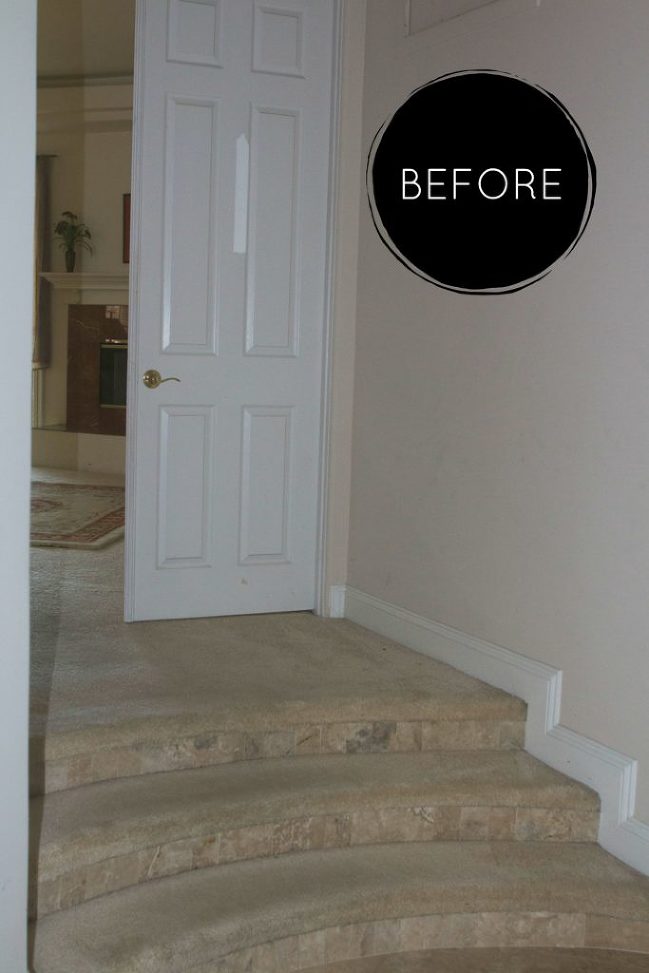 Here are the steps leading into the master bedroom from the main hallway that runs the length of the house.

To the right of the double doors is the hallway leading to the master bath and his and her closets.

Ta-Dah!  The 'after' shots of this Rancho Santa Fe master bedroom and bathroom.
You can see the new chandelier that sets the mood in this cozy hideaway.
The custom chairs are made of a faux gray velvet and the contrasting trim is an ivory faux velvet.  The matching lumber pillows are of the same silky faux velvet.  The coordinating petite ottoman is a great place to kick up your feet and enjoy a cup of morning coffee or an evening cocktail.
All of the bedding was commissioned with Eastern Accents and because of the various layers of designer bedding it's fantastic for all types of California weather.
All of the case goods (ie. headboard, nightstands, dresser) were purchased from Restoration Hardware but I do believe this design has been discontinued.

This picture always makes me smile.  The home owner and myself had various discussions about a built-in television.  Ended up that we did have a niche built into the wall.  Look closely and you can see it peeking out from behind the artwork.
Now onto the master bathroom where some major construction was done.

As you walk down the hallway into the master bathroom from the bedroom this WAS the first thing you did see, not any more.

Then there was this vanity which was okay but it was extremely short in height by today's standards, therefore, out it went.
The shower, oh boy the shower.  If you look to the left of the vanity you will see the L A R G E curved white wall with a teeny-tiny opening to a tiled wall.  That's the shower.  Honestly, one of the strangest showers I've ever seen. It was extremely dark inside, but I'm sure that is what the previous owners were trying to achieve.

A breath of fresh air.  A new stand alone tub, custom cabinetry, stunning chandelier, and a bright seamless glass shower.
What are your thoughts on this new master bathroom retreat?
Sharing is Caring