Investment Packages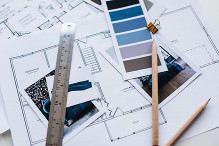 Susan Sutherlin Designs is dedicated to making design services available to everyone, no matter the budget of the project. We offer some of the most affordable prices for interior design services in San Diego (where we are based), and would be honored to be invited into your home or office to assist with your design project.
Below are our various packages making design assistance available to everyone.
Interior Design Consultation Only – $75 (60 minutes)
walk-through of your home/office
suggested space planning
discussion of design ideas, lifestyle, tastes and options
budget planning advice
color and material analysis
Note: If you decide to sign up with our service (DIY, Diamond or Construction/Remodeling Package) on the same day as the consultation, the $75.00 consulting fee will apply towards your package.
DIY or Virtual Design (AKA E-Design) Package – $495.00 (per room)*
design consultation (see above)
measurements of your room(s)
detailed scope of design direction and project
floor plan & full power point design presentation
pictures of furniture and material selection
color scheme selection (includes paint color selection)
full estimate of all specified materials
This package is perfect if you prefer to have us provide the design for you to follow and implement at your own pace and as your budget allows.  All materials and colors are specified, with a full estimate of items. We are a one-stop shop, so most items can be purchased through us for your convenience. With this package there are two revisions if needed.  Please note that wall art and accessories selection is not included, but can be added at an additional hourly rate.
NOTE:  If this is a Virtual Design you will need to provide us with measurements of your rooms and photos from each corner of the room being designed.
My Dream Package – $700.00 (per room)*
everything included in "DIY" package
wall art and accessories specifications
coordination of all customization, work rooms, deliveries, shipping, and oversight of installation of furniture, wall art and accessories
This package is great if you are looking to fully complete a room (including wall art and accessories) in a shorter time frame. In addition, our designers will be there to oversee installation of furniture, wall art and accessories. Note: Full room design ranges from 30-120 days, dependent on project size and availability of the product.
Be sure to also ask about our multi-room and whole house discounts.
Construction/Remodeling Package – $1800.00 for Bathrooms & Kitchen, $495.00 Other Rooms
space planning and furniture placement
hard materials selection (flooring, tile, backsplash, etc)
paint selection
full estimate of all specified hard material selections
up to 4 hours of project management time after presentation is completed (can purchase more time if needed)
This package is great if you are in a remodeling/construction phase.
Misc. Items
3D Renderings
Prices vary depending on size and scope. Please contact us for details.
Window Treatments – Upholstery – All Things Custom
Looking for window treatments to finish off the look of your room? Want to reupholster your existing furniture? Whatever your custom design needs are, we can help. Projects vary depending on size and scope, so please contact us for an estimate.
Per Hour – $75 Per Hour (for staging, accessories and as needed basis only)
*Pricing is for standard sized rooms only and is subject to change. All packages except for the hourly rate package is to be paid 60% deposit and 40% when project is presented to the client.   
In the event that additional assistance is needed on the day of the installation, an additional fee will be charged and will be communicated with you prior to that date.